In 1923, Fernando Pessoa had been living for some time at Rua Coelho da Rocha, no. 16, 1st floor, where Casa Fernando Pessoa is located today. In July of this year, his sister Henriqueta (Teca) gets married and leaves the same address, taking her and Fernando's mother with her, to live near the Benfica area.

In February 1923, Fernando Pessoa had published, in one of the most important magazines of Portuguese modernism – Contemporânea – the poem «Lisbon Revisited (1923)», by the heteronym Álvaro de Campos, containing these verses dedicated to the city of Lisbon, where Pessoa had been born in 1888 and where he lived for most of his life:

Oh blue sky – the same of my childhood –
Eternal truth empty and perfect!
Oh soft Tejo, ancestral and mute,
Little truth where the sky is reflected!
Oh sorrow revisited, Lisbon of yesteryear today!
You give me nothing, you take away nothing, you are nothing that I feel.
Another poem by Álvaro de Campos, with an almost identical title – «Lisbon Revisited (1926)» will be published three years later in the same Contemporânea magazine.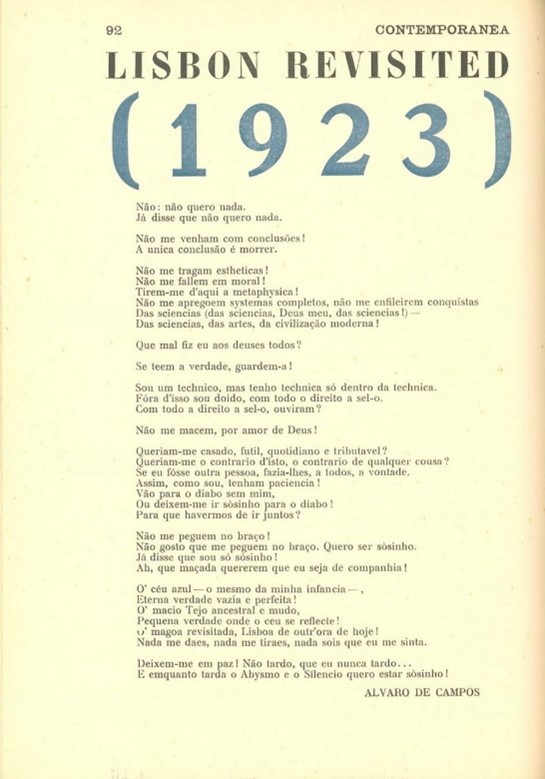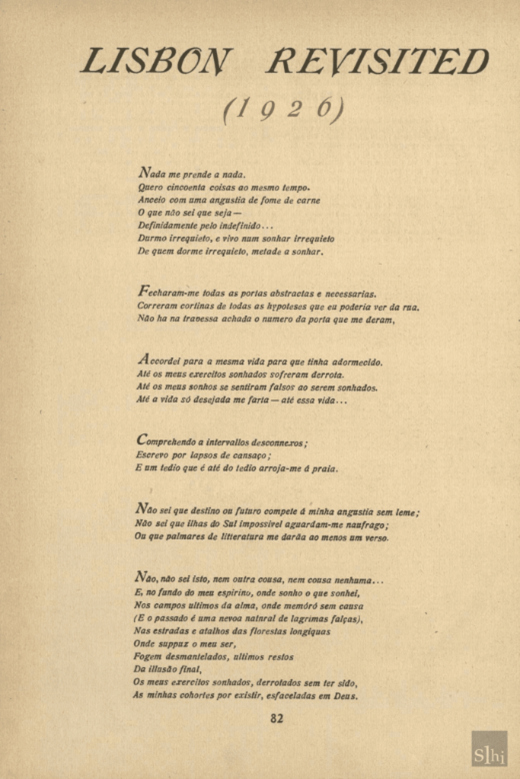 Contemporânea, No 8 (1923) and No 2 (1926)
Moreover, 1923 is a year in which more of Pessoa's texts are published in Contemporânea – in Portuguese, French and English – as well as other writings by him, including two interviews (one in Revista Portuguesa, the other conducted by Francisco Manuel Cabral Metelo) and a writing dedicated to Edgar Allan Poe, one of his literary "masters" of the English language, in the translation of O Baile das Chamas (Delta, 1923), conducted by Pessoa's friend Augusto Ferreira Gomes (under the pseudonym Carlos Sequeira).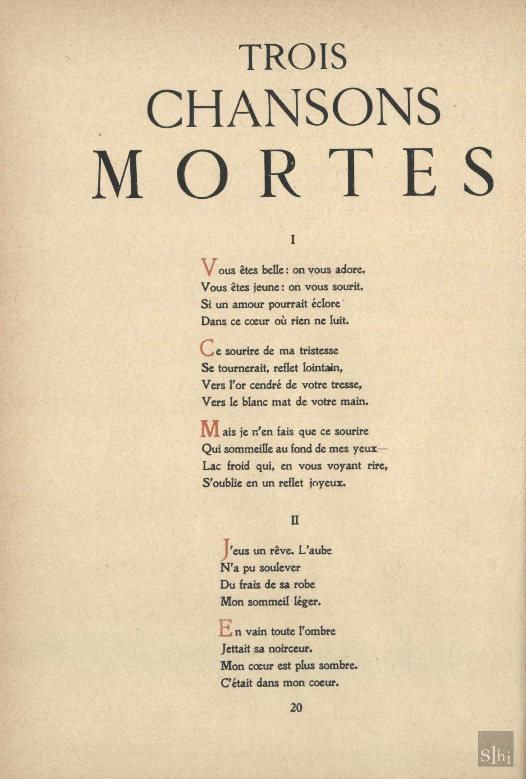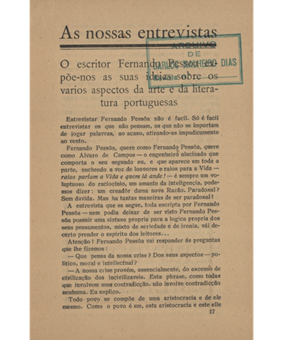 Contemporânea, No 7 (1923); Revista Portuguesa, No 23-23 (1923)
In the same year 1923, Fernando Pessoa continued to be active in the work of the publishing house and firm Olisipo, which he had founded in 1921. In February, Olisipo itself published the Sodoma Divinizada booklet, by Raul Leal, an author and thinker who had been part of the group of authors linked to the Orpheu magazine in 1915.

Immediately in March, the Civil Governor of Lisbon, Major Viriato Lobo, ordered the seizure of several books considered "immoral", including Canções by António Botto (reissued in 1922, with verses of homoerotic content) and the aforementioned Sodoma Divinizada by Raul Leal, both published by Olisipo. The campaign to react to the publication of the two books had been started by Liga de Ação dos Estudantes de Lisboa, in the pages of A Época conservative, Catholic and monarchist daily, on 20 February 1923.
Fernando Pessoa reacted to this episode by circulating two manifests written by them in defence of the authors of the works in question. One of the manifests, Aviso por causa da moral, is signed by the heteronymous Álvaro de Campos. The other, entitled Sobre um manifesto de estudantes, in response to the writing of the Liga de Ação dos Estudantes de Lisboa, Dos estudantes das Escolas Superiores de Lisboa – Aos poderes constituídos e a todos os homens honrados de Portugal, is by Pessoa orthonymously. Still with regard to António Botto, Pessoa published in 1923 the preface to Motivos de Beleza Botto's book.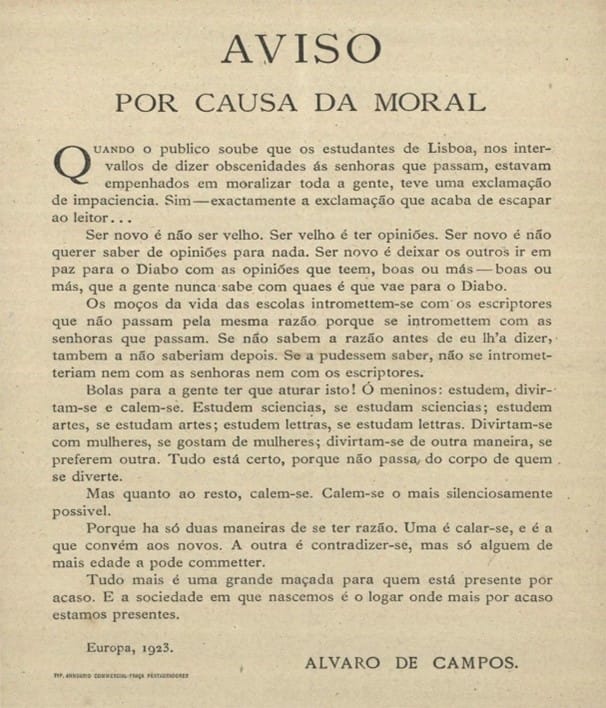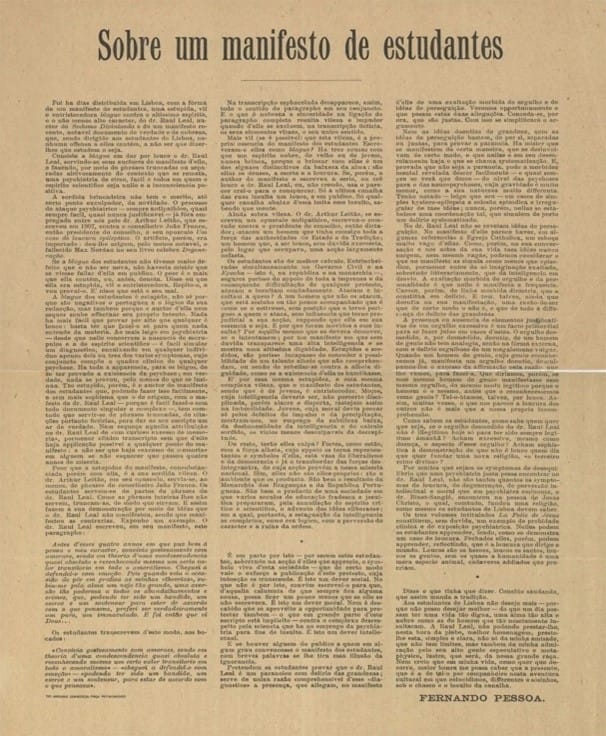 In that period, Fernando Pessoa was aware of what was happening similarly as the seizure of books considered immoral in Italy, where Mussolini had recently come to power, beginning the twenty or so years of the Italian fascist regime.

Pessoa's action in this context is one of the events that embody his public interventionism, as a man who defined himself as "liberal within conservatism, and absolutely anti-reactionary", as Pessoa himself declared a few months before his death in 1935.
Fabrizio Boscaglia
_
Discover Lisbon and Pessoa, from Lisboa Pessoa Hotel.