Autumn is here. Even if the rain comes and you feel like using a coat, we have some suggestions that will cheer you up and comfort you.
3 top things to not miss!
There are those who love autumn and the approach of winter. There are those who don't love it at all. What is true is that this change is irremediable. Let us then look at what is pleasant. You will see that you will like our suggestions:
Hotel with relaxing indoor pool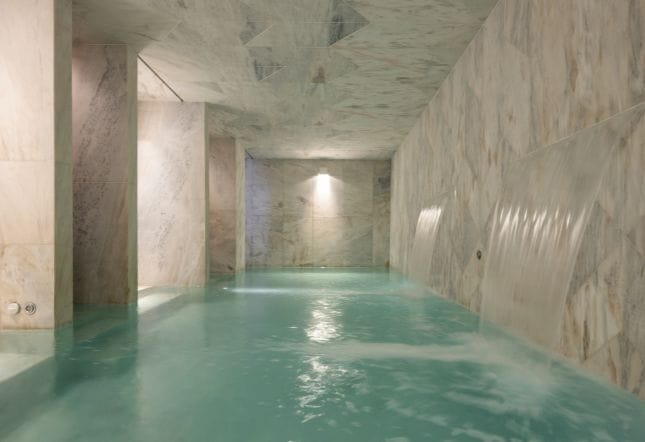 After a walk through Lisbon, recharge your energy in the comfort of a space with an indoor pool. There are some hotels in Lisbon with an indoor pool for this purpose. We suggest the Thermal Garden at Azure Wellness & SPA, at Lisboa Pessoa Hotel, in Chiado. It is a space open to external customers and not just for guests.
In addition to the SPA relaxation pool, you can enjoy the sauna and Turkish bath. It has an added advantage, you can park in the car park, subject to availability, while enjoying the Thermal Garden, massage or treatment. We know very well that finding parking is not always easy.
Icons – one of the most complete retrospectives of the career of Steve McCurry
Visit the Steve McCurry Icons Exhibition which opened on the 23rd of September, at Cordoaria Nacional, in Lisbon.
Steve McCurry is an American photographer for National Geographic, responsible for recording the famous image of the Afghan Girl, whose face was on the cover of the magazine and recognized around the world. He has been recognized with some of the most prestigious awards in the industry, including the Robert Capa Gold Medal or the National Press Photographers Award. This exhibition has more than 100 large format photographs.
Frida Kahlo – an immersive experience
Frida Kahlo – The immersive biography, will arrive in Lisbon on October 27, at the Mãe de Água das Amoreiras Reservoir. Several experiences emerge in this exhibition: one, virtual reality and where you can create a personalized model of Frida; the other, which translates into an audiovisual show in 360º.
If you liked these suggestions, stay tuned to our blog where we will continue to introduce you to our Lisbon, among other beautiful cities in Portugal.